In recent years, organizations like yours have had the challenge of navigating a COVID and a post-COVID world: reallocating resources to best support those in most proximity to needs; planning the opening, re-opening, re-re-opening of offices, schools, and centers; refiguring roles and responsibilities of staff members, etc.
Through it all, Stronger has been there to compile recommendations of structures, systems, and best practices to have your organization cut costs and be more impactful through our Organization Effectiveness & Efficiency Service area.  
To best support how to guide your organization to become more effective, the team at Stronger Consulting follows a C.H.E.S.S. philosophy: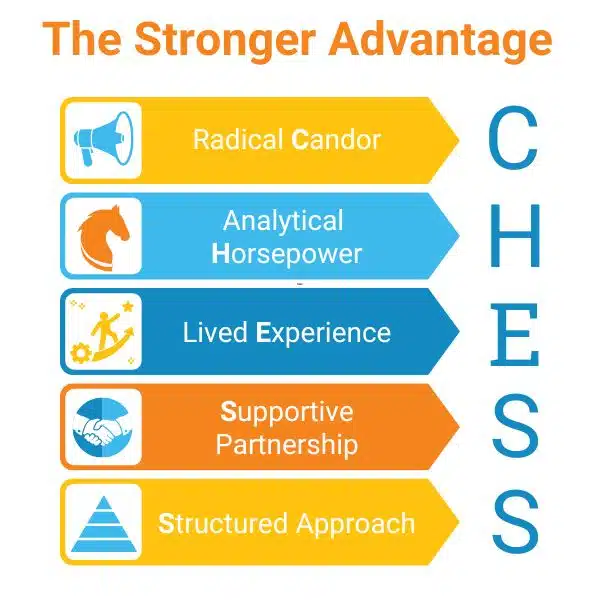 Radical
C
andor
:
We tell you what you need to hear, not what you want to hear.
Analytical
H
orsepower – Our staff are analytically and quantitatively advanced, with experience at top-tier consulting firms.
Lived
E
xperience – Our staff are former teachers, administrators, and nonprofit executives; we know the work because we've done the work.
S
upportive Partnership
:
We are with you for the long haul, including the implementation phases.

S
tructured Approach
:
Our insights derive from time-tested protocols and consultancies; you'll never wonder where we're headed or why.
Radical Candor
The Stronger Team embraces radical candor as our consulting communication strategy. By combining honesty with empathy, radical candor helps build trust between our consultants and client partners, allowing us to work together more effectively.
Nonprofit organizations often operate in challenging environments and face complex issues. As such, our team must provide honest feedback and insights to help your organization navigate these challenges. 
A study published in the Harvard Business Review found that teams that received more feedback through radical candor had significantly better performance outcomes than those that received less. While a study presented in the Academy of Management Journal found that radical candor was positively associated with learning behaviors, including seeking feedback and experimenting with new approaches, leading to greater innovation and creativity. 
With honest feedback and constructive criticism, our communication strategy helps client partner organizations identify their strengths and weaknesses to conceive, implement, and pivot strategic planning, providing growth and success. 
Analytical
H
orsepower 
Did we mention that we liked to play chess as well as use it as a communication strategy? Our team prizes strategy and thinks ten moves ahead. We are data-driven and analytical with decades of experience. We help organizations identify key performance indicators, analyze trends, and evaluate program impact. We provide clarity and evidence-based decision-making, assisting organizations in achieving their goals more efficiently and effectively. With a focus on continuous improvement and a commitment to achieving outcomes, we help client partners like you navigate the complexities of the nonprofit sector, maximize your impact, and achieve your mission.
Lived Experience
The Consulting Team's professional and personal experience and insights are valuable assets to their clients. 
As team members have personally faced the challenges and opportunities of working in social impact nonprofits, implementing change, and confronting the unique challenges leaders of color face, we can help organizations navigate the sector's complexities. 
For example, our Associate Partner of Consulting, Mona Duffus, served as Chief Executive Officer (C.E.O.) of the Tampa-based nonprofit Dawning Family Services. Under her tenure, Dawning Family Services was designated with the One Tampa Award for Nonprofit of the Year (2021). Previously, Mona was the Chief Program Officer for the Lord's Place in West Palm Beach, a social-impact agency caring for nearly 2,000 individuals and families through its social enterprises, affordable and emergency housing solutions, education and workforce development, and equity for the formerly incarcerated. With this experience, Mona can provide actionable strategy and advice because she has spent her career in her client's shoes. 
Neils Ribeiro-Yemofio, also an Associate Partner of Consulting and part of our Executive Leadership Team, previously worked at D.C. Prep Public Charter School, the highest performing system of schools in the District, as the Chief of External Affairs, supporting fundraising, communication, community engagement efforts, and college access and success during his tenure. 
If your organization has fundraising, recruitment, talent retention, community engagement, or other projects: work with a team that has successfully worked in the field. They are familiar with the needs of organizations that embrace leaders and communities of color and can provide nuanced, tailored advice and support that reflects these needs. 
Supportive Partnership
At Stronger Consulting, we believe in being more than just a consulting firm for our organizations. We aim to be true thought partners, collaborating closely with our client partners to achieve your mission and goals.
Our team takes the time to deeply understand the identity and core values of each organization we work with so that we can tailor our services to your unique needs. We are committed to building strong, lasting relationships with our clients and prioritize transparency and communication throughout the consulting process.
Structured Approach: Our Process
We employ a multi-prong approach when working with our partner clients. 
First is intake. We get to know our clients and their unique challenges. We learn about your organization, approaches, and short- and long-term needs for every issue. We consider ourselves a true partner and can only help you with long-term strategy and impact with an in-depth understanding of your organization. 
After the exploration and intake process, we present options to address the challenges and goals you face. Once we agree on an approach, our team designs a program tailored to your organization to implement change. 
Then comes the fun part: implementation. We go to work. Whether your plan includes collateral, tangible action steps, long-term strategic goal refinement, and provide hands-on coaching in some cases. 
Our client partners should be able to see the progress at every step with dynamic plans that pivot to meet evolving needs.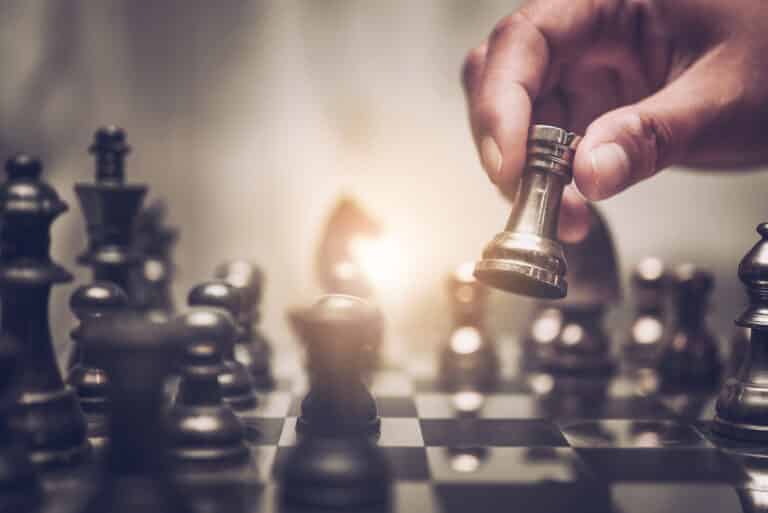 As former practitioners, we understand the importance of evolving to maximize your impact. As consultants, we know through analysis and thought partnership that no problem is too great to be solved. As members of the Stronger Consulting team, we have the intrinsic motivation to support your organization in taking the leaps and strides it needs to, and we will guide you along the way.
Want to challenge us to a game of chess or learn more about our approach to consulting? Click here for a free 30 min conversation to see how Stronger can help your organization be more effective.